As administrative educators, we have strong convictions about education, and those core convictions are, every child can learn and that educators have a responsibility to ensure that students achieve academic excellence. We regard this belief as a moral imperative inspired by the hopes and dreams of the students who come to school, the parents who entrust them to us, and the teachers and administrators who enter and remain in this profession because they want to make a difference in the lives of students. Though the tools of education may change over time, these two core guiding principles mark our route into the future. What we accomplish in our classrooms is critical to the success of our communities and our nation. We truly impact the future!
As professional educators, we are also lifelong learners. It is our belief that our jobs are equated to those in other esteemed professions, such as medicine, for example. We are committed to growing professionally by continually expanding our own knowledge base thus empowering ourselves to meet the diverse and often complex needs of our students.
We are confident and enthusiastic that by working together, we will continue the work that supports the vision and mission of the district and continue to increase student achievement. We will build on past accomplishments to reach new levels of learning for our students.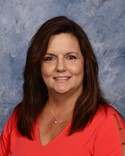 Mrs. Billie Jo Beatty,
MS Principal
717-485-7080
bbeatty@cfsd.info

Director of Transportation
and Enrollment
717-485-7008